ENGLISH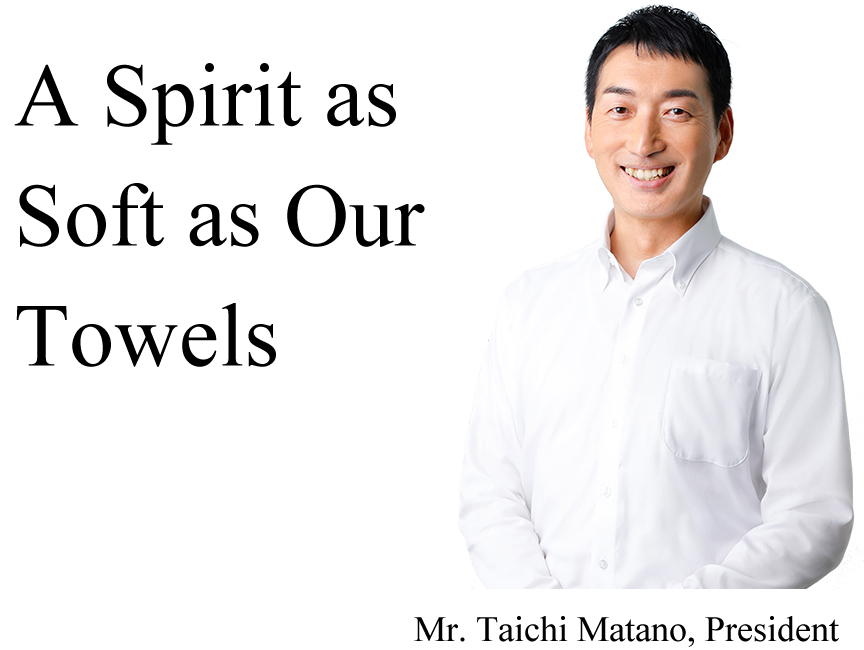 As our Senba, Osaka trading company specializing in towels rounds out its 70th year, we have seen a steady flow of business even in the midst of a recession. In this economic situation we have been focused on meticulous product development and the approach of creating unconventional forms of demand. We have been introducing high-quality towels directly imported from America and Europe since the 1950's, and currently our Portuguese JMA and IBENA of German items are particularly well-received by our customers, among other brands. We are also handling a number of brands featuring collaborations from both domestic designers and designers from abroad.

In addition to these standard procedures, recent years have seen towel function evolve from simply 'drying' to 'wrapping' and 'decoration', leading to the development of our hugely popular 'cotton muffler' and tenugui-style towels, both winners of the 2011 Good Design Award. Manufacturers, sellers, and customers have served as a contributing trinity in the introduction of the lll works branding project introduced in 2012, the first entry to win the Good Design Award in all categories.

In March of 2000, in advance of the rest of the industry, we received environmental management standard certification ISO14001, and since then producing environmentally-friendly towels has been a regular in-house procedure, and we have been presenting at least one new series every year featuring new perspectives on manufacturing.

As per our management principles, our goal is to bring 'happiness and inspiration' to our customers. This applies as well to the happiness our employees. As an enterprise, as human beings, we believe it is important to work to whatever extent possible to be of service to society. We approach our work with a fresh sensitivity and dynamism, a bright and positive attitude, and a spirit as soft and gentle as our own towels. We love towels, and manufacture them with focus and warm enthusiasm.

Founder's teachings:'Remember the enthusiasm with which you began.''Harmonious cooperation'
The pursuit of customer satisfaction, and employee happiness both in body and mind
To always focus on innovative product development, with the aim of the happiness and inspiration of our customers.
To provide a safe environment for our workers that they can take pride in
To contribute to society in a wholesome and enduring manner

To strive towards the satisfaction of every customer, and the continuous improvement of the quality of our products
To pursue the production of items that are pleasant to use and that customers do not tire of using daily
We use natural-fiber cotton not just for the production value, but as part of our consciousness of living cooperatively with the natural environment and making products that are gentle for both people and nature.

| | |
| --- | --- |
| Company name | Nissen Shoko Co., Ltd. |
| Representative | Mr. Taichi Matano, President |
| Capital | JPY ¥100,000,000 |
| Establishment | July 24, 1942 |
| Business conducted | Import/export, overseas operations and domestic wholesale of towels, bath towels, oshibori, sport towels, beach towels, sheets, blankets made of toweling, robes and sleep fashion, towel-related goods, and miscellaneous accessories. |
| Brands | Fila, OLIVE des OLIVE, JMA, IBENA, etc. |
| Employees | 130 Employees (Jan 1, 2019) |

| | |
| --- | --- |
| Wholesale oriented marketing | Through wholesale businesses throughout the country, we work to meet the needs of retail businesses by providing a wide selection of goods, quick delivery, and support, among other services. |
| Retail oriented marketing | We conduct operations such as providing a variety of goods as well as lifestyle suggestions to quickly respond to and meet the needs of department stores, volume sellers, and specialty stores. |
| Overseas-oriented marketing | We distribute high-end Japanese-made towels through retail stores currently centered in Southeast Asia. |
| Mail/Web order oriented marketing | We offer a selection of products in order to respond to our clients' ever-changing needs in real time. |

Osaka Head Office
3-11 Kitakyuhojimachi, 2 Chome, Chuo-ku, Osaka 541-0057
Tel : 06 – 6261 – 8251 Fax : 06 – 6264 – 6690
Mino Office
3-16 Senba Higashi, 2 Chome, Minoh, Osaka 562-0035 Tel : 072 -729 – 7271 Fax : 072 – 728 – 7736
Nichiwa Senba
1-7 Senba Chuo, 3 Chome, Chuo-ku, Osaka. 541-0055
Tel : 06 – 6252- 6361 Fax : 06 – 6252 – 6362
Tokyo Office
Iwasei Nihonbashi Building 4th Floor, 6-5 Ohdenmacho, Nihonbashi, Chuo-ku, Tokyo 103-0011
Tel : 03 – 5695 – 6221 Fax : 03 – 5695 – 6233
Sapporo Office
1-3 Kita 5 Joh Nishi, 13 Chome, Chuo-ku, Sapporo 060-0005
Tel : 011 – 231 – 3061 Fax : 011 – 231 – 3635
Fukuoka Office
Hakata Plaza Bldg No.2 1F,8-3,2-chome
Hakataekihigashi,Hakata-ku,Fukuoka 812-0013
Tel:092-482-4567 Fax:092-482-4569

| | |
| --- | --- |
| July 24, 1942 | Established as Nissen Mora Products |
| May 30, 1949 | The company name is registered as Nissen Shoko Co, Ltd. |
| February 9, 1953 | Direct export operations begin |
| July 3, 1957 | The headquarters location (Osaka-shi, Nishi-ku, Kita Kyuhouji 2 Chome, 26) is transferred (4-floor, reinforced) |
| February 13, 1960 | The Tokyo Office is established (Tokyo-to, Chuo-ku, Higashi Nihonbashi 2 Chome, 1-13) |
| May 1, 1963 | Direct import operations begin. The start of American-made 'MARTEX' brand towels in Japan. |
| October 31, 1963 | Construction of the Tokyo Nissen Building (9 floors, one basement floor, steel-frame, reinforced) |
| October 6, 1965 | Established 'Thai Towel Co., Ltd.' (joint venture) in Bangkok, Thailand |
| March 12, 1970 | Nichiwa Senba Center Building is established, opened for business |
| October 1, 1974 | The Minoh Logistics Center is built in Minoh City, Senba Higashi 2 Chome 3-16 |
| March 22, 1976 | Company capital exceeds JPY ¥ 100,000,000 |
| April 1, 1977 | Sale of the Jumbo Ozaki Jumbo Fashion Terry begins |
| September 1, 1978 | 30th anniversary celebration of the Hiroko Koshino brand license |
| April 29, 1979 | Chairman Heizo Matano is decorated with the Fifth Order of Merit for his business services |
| May 10, 1981 | The Fukuoka Office is established |
| July 1, 1987 | The new headquarter building is completed |
| March 9, 1988 | Company tour to Singapore in celebration of the 40th anniversary |
| September 17, 1990 | Remodeling of the Tokyo Office building completed |
| November 19, 1991 | Completion of the Sapporo Office 4-floor building |
| March 11, 1992 | Contracted a licensed agreement for the MCM brand, Michael Cromer Munich (Germany) |
| October 7, 1993 | Company trip to Hawaii in celebration of the 45th anniversary |
| January, 1995 | Contracted a licensed agreement with Katharine Hamnet (Itochu Corporation) |
| February 9, 1995 | Purchase of XIV Shirahama Annex as a recreation center |
| March, 1997 | Completion of additions to the headquarter building |
| March 11, 2000 | ISO14001 Certification received |
| April 21, 2002 | The Tokyo Office moves to Nihonbashi, Odenmacho |
| September, 2003 | Contracted a licensed agreement with Guy Laroche |
| November 3, 2003 | President Fumio Matano is awarded a yellow ribbon in the autumn 'Houshou' |
| April 1, 2004 | Contracted a licensed agreement with the Elmer brand (Plazastyle) |
| September 20, 2005 | The Nichwa Office moves to Senba and begins business operations |
| September 5, 2008 | 60th anniversary celebration held at XIV Biwako |
| October 1, 2009 | 40th anniversary of the establishment of the Sapporo Office |
| January, 2010 | Internship training |
| March 19, 2010 | 50th anniversary of the establishment of the Tokyo Office |
| September, 2010 | Internship training |
| 2010 | Contracted a licensed agreement with ROSE HIPS |
| January, 2011 | Mr. Fumio Matano is appointed as company chairman, and Mr. Taichi Matano is appointed as company president |
| April, 2011 | XIV Arima Villa, Grand XIV Naruto purchased and established as recreation centers |
| May, 2011 | 30th anniversary of the Fukuoka Office |
| November, 2011 | The Japanese Style brand receives a 2011 Good Design Award |
| April, 2012 | Chairman Fumio Matano receives both a gold and silver award in the spring 'Houshou' |
| September, 2013 | 65th anniversary celebration held at the Yase, Kyoto villa |
| November, 2013 | lllworks brand wins a 2013 Good Design Award |
| November, 2015 | Concluded a licensed agreement for "AVOCA" brand |
| December,2016 | Concluded a licensed agreement for "MERCURYDUO" brand |
| March, 2017 | "Tenshi no gauze" brand won Omotenashi Selection Award 2017 |
| September, 2018 | 70th anniversary of the establishment. Celebration event was held in Fukuoka・Oita in November |
| December, 2018 | Concluded a licensed agreement for "Journal standard furniture" brand |